Course details
【Farewell Accommodation ◎】 Ichibar Course ☆ Cooking 10 items 120 minutes [Drinking] with attached 4000 yen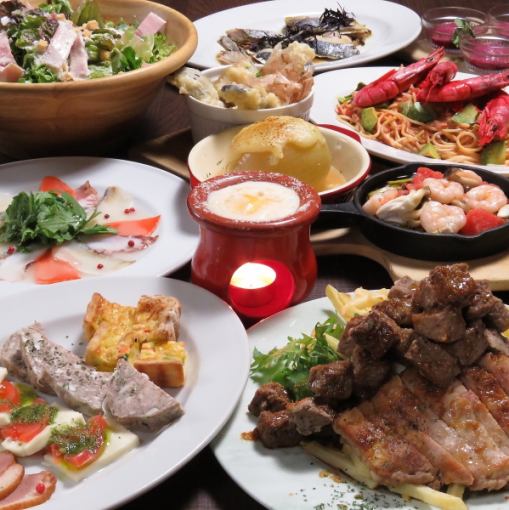 By using a coupon4000 yen
All-you-can-drink available

120 minutes all-you-can-drink
Course content renewal! Ichibar boasts a course that is recommended for various banquets, fish dishes and meat dishes plentiful, plentiful variety of all you can drink and everyone is satisfied with no mistakes.
Course menu
【Appetizer】
Four kinds of Marche's appetizers
【Carpaccio】
Three kinds of seasonal fish in Sanriku Carpaccio
[Salad]
Crispy bacon and Italian cheese
HOT Caesar salad
【Name stuff】
I studied raw ham
Azatsu eat onion gratin
【Fried food】
Deep-fried eggplant and mozzarella cheese
[Ahijo]
Shrimp, mushrooms and mentaiko
Muggy shoot ache
【 fish 】
Seasoned seasonal roasted flavor with vegetables
【 Meat dish 】
Heavy meat tower
JAPAN X Grilled pork belly steak
【Pasta】
Tomato cream pasta with snow crab and avocado
【dessert】
Seasonal fruit sorbet
Assorted mini cake
* It may change depending on the purchase situation.
※ All you can drink is the last order in 100 minutes
All-you-can-drink menu
Beer, etc.
· Black Label (Medium Mug / Mega Mug) Shandigeraf / Red Eye / Cassisvia
· Whiskey etc.
· Whiskey angle (rock, water split, soda split) / angular highball / horn mega high ball / ginger high ball / cork high ball
· Wine etc.
· Wine cooler (red, white) / kitty / American lemonade / carimoco (red wine + cola) / spiritzer (white wine + soda) · Wine cooler (red / white) / wine cooler )
· Mojito, plum wine, sake
· Mojito / grapefruit mojito / apple mojito / pine mojito / man plum sour / black bean sake (rock, water split, soda cracker) / Shochiku Baikai
Shochu Sour
· 【Wheat】 Yakari / 【Potato】 Pickled potato (rock, water split, soda split) / plenty of lemon sour / grapefruit plentiful sour / lime plenty sour / giant peak sour / white peach sour / pine sour / berry sour / oolong high / Green tea high / Jasmine high
·Cocktail
· Moscow Commure / Screwdriver / Vodka Tonic / Bulldog / Gin Tonic / Jinhuz / Jinbac / Jin Lime / Cuba River / Rum Buck / Rum Tonic Mexican Coke / Tequila Tonic / Tequila Sunrise / China Blue / Calamilk
·Cocktail
· «In your favorite combination» Peach / Cassis / Lychee / Darjeeling / Campari / Apple × Oolong Tea / Orange / Grapefruit / Apple / Cola / Gingeraire / Tonic / Soda
- Non-alcoholic cocktail
· Shirley Temple / Saratoga Cooler
·Soft drink
· Oolong tea / Orange juice / Jasmine tea / Grapefruit juice / Apple juice / Gingerjae / Coca-Cola / pine juice
· ★ Premium All-you-can-drink
· Sparkling wine / drinking health! Kale beer / Chu-Hai / Sangria (apple · strawberry) / 6 kinds of local sake / Tonoho Mountain / meat special sour zintoni! / 8 non-alcoholic cocktails
2018/03/12 update